Prof. Emeritus Art Kruckeberg (1920-2016)
Arthur R. Kruckeberg
March 21, 1920 – May 25, 2016
Art Kruckeberg, Emeritus Professor of Botany, died yesterday at age 96. Art left a legacy as a scholar, teacher, promoter of gardening with native plants, and conservation activist.
Art joined the Botany Department as an Assistant Professor in 1950 after completing his Ph.D. at UC Berkeley. He grew up in California and was imbued with all things botanical from an early age; his family owned a publishing house called Kruckeberg Press, which published gardening and horticultural publications. He began grad school in 1941 at Stanford, where he spent the previous summer as a field assistant for the famous botanical research team of Jens Clausen, David Keck, and William Heisey (Clausen, Keck, and Heisey rolls off the tongue of most botanists the way Tinker, Evers, and Chance does baseball aficionados).
Due to forces beyond his control, graduate study would have to wait. After the attack on Pearl Harbor, Art enlisted in the Navy and was recruited into their language program, where he learned Japanese. He spent the rest of the war years and a year of postwar occupation, translating Japanese documents and interpreting interrogations of captured Japanese prisoners. To the very end of his life, Art was proud of his mastery of Japanese. I had the occasion to spend a week at a conference in Japan with Art in 1989; he could still speak the language AND remembered the plants he had seen there even though it had been over 40 years since he had left Japan.
After the war, he returned to California to start grad school again, this time at Berkeley. He completed his Ph.D. under the supervision of Herbert Mason, with Hans Jenny and G. Ledyard Stebbins on his committee. Mason had recently begun studying the unique flora found on serpentine soils in California. Art's dissertation (An Experimental Inquiry into the Nature of Endemism on Serpentine Soils) helped bring the descriptive work on serpentine endemism into the realm of experimental science. Art maintained a research program on serpentine plants throughout his career, writing several books for both academic and lay audiences, in addition to a significant body of scientific publications.
Once Art's academic bona fides were well established, he increasingly devoted his attention to public outreach through his writings, promotion of conservation activism, and pushing for the establishment of environmental legislation to preserve lands for their value to biodiversity. In 1972, he led the movement to create the Washington Natural Area Preserves Act, in 1973, he developed the first list of rare and endangered plants in Washington, in 1976 he helped found the Washington Native Plant Society, in 1982 he helped create the Washington Natural Heritage Program within the Department of Natural Resources to oversee management of natural area preserves and endangered species, and during those years also served on the US Forest Service commission to identify parcels of federal land to preserve as Research Natural Areas. Art was awarded the prestigious Peter Raven Award for public outreach in botany by the American Society of Plant Taxonomists in 2006.
Art leaves a living legacy in the form of the 4-acre garden he and his wife Mareen developed over the course of 50 years in Shoreline. This is the "type garden" for his most widely known book "Gardening with Native Plants in the Pacific Northwest." This book has turned on generations of gardeners to the joy and conservation value of using our native flora in home gardens. When the book was first published, it won the "Governor's Award" for outstanding books published by Washington authors. The Kruckeberg Botanic Garden is now a public garden owned by the City of Shoreline and managed by the Kruckeberg Botanic Garden Foundation.
Art served on my Ph.D. committee and I have a debt of gratitude for Art's support over the years. During the last few weeks, I have been sorting through the detritus of a career left behind in Art's last office in the Plant Lab. With news of his passing, the many memories into the man who influenced me so, take on additional meaning. A legion of friends, colleagues, and many who never met him, but were influenced by his work, will mourn his passing.
–Dick Olmstead
Gifts in honor of Art can be directed to the Kruckeberg Foundation or to the endowment he created in the Department of Biology for Plant Biology. Please make checks out to the University of Washington, with "Kruckeberg endowment" on the memo line. Questions? Contact Lisa at <lisatran@uw.edu> or 206.685.2185.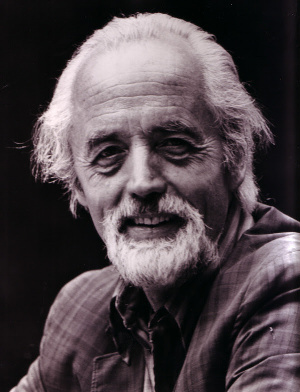 "Art in the field — dashing as ever" (Snoqualmine)